24/7/365 FULLY MANAGED SERVICES
We drive
better

conversations

We manage online conversations for top brands and advertisers. Some of the world's biggest brands in the world rely on us to enhance brand safety and enable meaningful relationships with their audiences.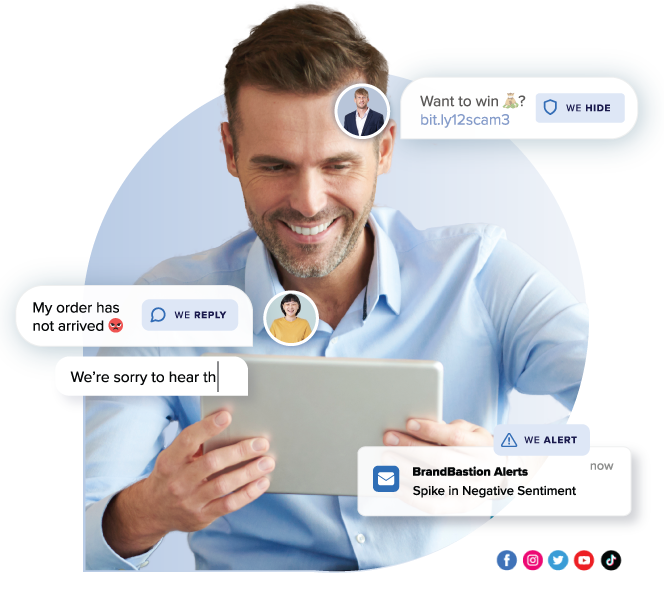 With BrandBastion in place, we have a finger on the pulse across our social media conversations and we know our community is protected from harmful engagement. We have peace of mind that Netflix's paid social engagement is being well-managed 24/7 thanks to the BrandBastion teams attention to detail, bias to action, and clear communication.
- Evan Irwin, Growth Marketing at Netflix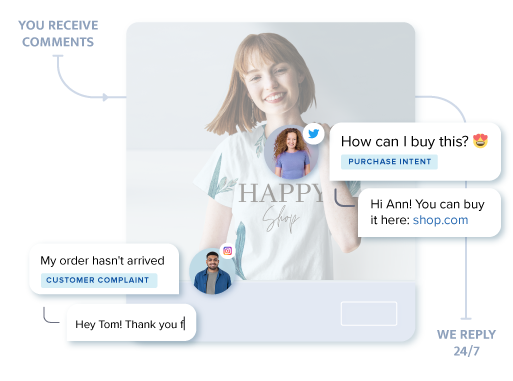 BRANDBASTION CARE
We drive meaningful conversations at scale
We help you increase customer loyalty by engaging at scale. We respond to consumers' questions, complaints, and feedback on your behalf 24/7. You just need to choose what types of comments you want us to respond to and we'll work with you to create response variations.

TikTok
Organic, Ads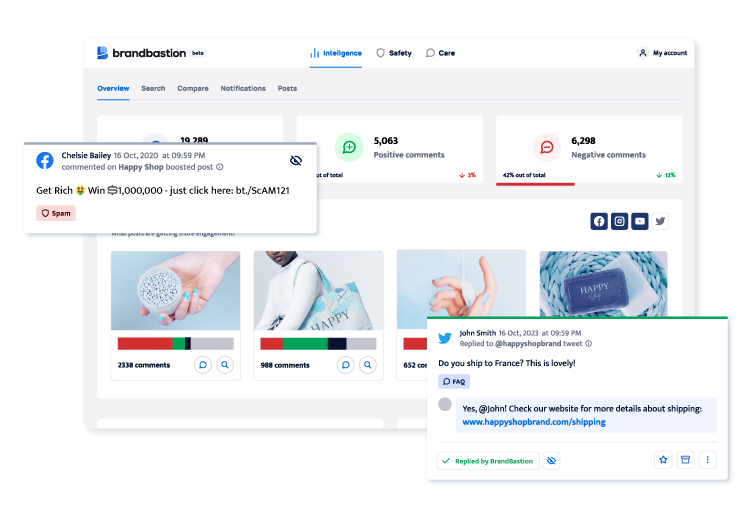 BRANDBASTION PLATFORM
Get complimentary access to our platform
Our managed clients have free access to our platform, getting full visibility into all actions taken by BrandBastion and the opportunity to explore numerous actionable insights.

How Purdue University Uses BrandBastion to Boost Engagement & Positive Sentiment

Protecting Purdue's community
Purdue University ensures that all conversations are safe for their community, as BrandBastion Safety moderates harmful content.

Growing social media engagement
BrandBastion Care responds to Purdue's comments such as Fan Community and Constructive Feedback 24/7 within minutes.

Optimizing marketing strategy
Purdue uses BrandBastion Intelligence to assess brand health and content resonance to optimize its strategy.
FULLY MANAGED SERVICES
What Makes Us Different
We Take Action on Your Behalf 24/7

AI & Human Expertise
Our AI analyzes each comment, so we can manage your conversations fast and accurately on your behalf. Our solutions are supported by our human content specialists 24/7 so you can rest assured that your brand and community are safe and well taken care of.
Dedicated Support

a true extension of your team
World-class customer success team available around the clock for any requests plus ongoing support from your dedicated account manager to provide expertise based on your brand, industry, and the current social climate.
Premium Analytics

become (even) more data-driven
Sentiment analysis, audience insights and analytics into the comments we are hiding and responding will help to help you understand your engagement at a deeper level and become more data-driven with your strategy.
Book a Meeting
Discover how BrandBastion can help your brand grow