BrandBastion Messenger
BrandBastion Messenger
Open up 1-to-1 conversations with your audience to stay top of mind.
Tap into the "wallet effect" where users can return to the conversation at any time.
Get in Touch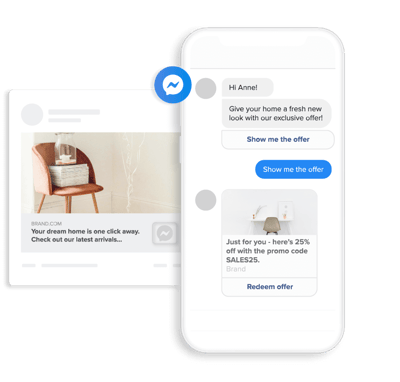 Customized Messenger experiences for advertisers
Trusted by 450+ Accounts Including Top Advertisers
1.3 billion
people use Facebook Messenger every month
20 million
messages are sent between businesses and people every month.
91%
of people prefer to shop with brands who personalize their approach, remember them and provide them with relevant offers.
Meet customers where they spend their time
BrandBastion enables advertisers to drive 1-on-1 conversations with prospects within Messenger. This is offered as a managed service, where we provide full assistance and proprietary development to set it up for you, including advice, monitoring and improvement.
Our specialities:
Online Couponing, re-engagement and sponsored messages
Lead Generation, re-engagement and sponsored messages
"Public to Private" flows
Supported platforms:


Why BrandBastion?
6 years of expertise in understanding and managing conversations at scale: We offer conversational automation, NLP and ML capabilities and integrations with your social media channels.

Support for custom technical integrations and dedicated account management.

Trusted partner for big global advertisers: We work with global advertisers such as Netflix, MAC Cosmetics, and DealDash, covering over $1B in annual ad spend.

Strong experience with ad tech partners: We collaborate with ad tech partners to develop ad performance solutions by combining technology and new approaches.
CLIENT STORY |

COUPONING AND RE-ENGAGEMENT
Discovery and re-engagement to drive sales and new orders
A food delivery app was looking for better ways to acquire new customers and re-engage them while keeping acquisition costs low.
They turned to BrandBastion to build an automated Messenger bot flow offering coupons within Messenger. This bot was connected to campaigns using ads that click to Messenger to open up direct 1-to-1 conversations with their audiences.
Following the initial coupon offer, the brand was able to send targeted, timely reminders about the offer at relevant times. This increased conversions, sales, and saved costs compared to their business-as-usual ads, driving results such as:
6X more First Orders with Messenger*
4X more Purchases with Messenger*
-80% decrease in Cost per First Order*
*Compared to the control campaign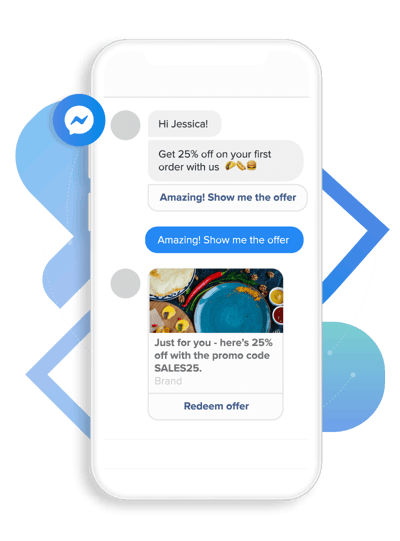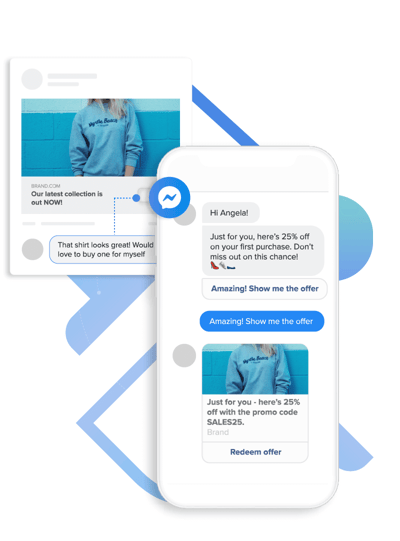 CLIENT STORY |

MOVING FROM PUBLIC TO PRIVATE
Targeting ready-to-buy users with personalized messages
A global e-commerce company wanted to increase conversion rates on their ads. Many users were commenting and expressing interest, but not following through with a purchase.
Using BrandBastion's comment classification technology, user comments demonstrating purchase intent were identified. Automated responses were sent via Messenger in real-time to these users.
By using Messenger to engage, the brand brought the conversation to where users already spend most of their time. By adding an app download link within their personalized message, this created a wallet effect allowing the user to access the link at any time.
11.36% Conversion Rate*
19.36% Click-Trough Rate
*Benchmark: 9.21% Average Conversion Rate on Facebook Ads
Having the ability to connect directly with customers and send relevant messages to the right people at the right time has proven to be an interesting and successful project specifically for our promo campaigns. We are excited about the initial results and the collaboration with Facebook, BrandBastion, and Smartly.io and look forward to exploring how else we can use Messenger!

- Emily Fielding
Paid Social Manager, Uber Eats EMEA
MESSENGER & CUSTOMER ENGAGEMENT
Success Stories
Let's Talk
How can we help your brand on social?