SUCCESS STORY
How Purdue University Uses BrandBastion to Boost Engagement & Positive Sentiment
Fostering a positive and engaged student community helps the university increase brand awareness and ultimately drive enrollment.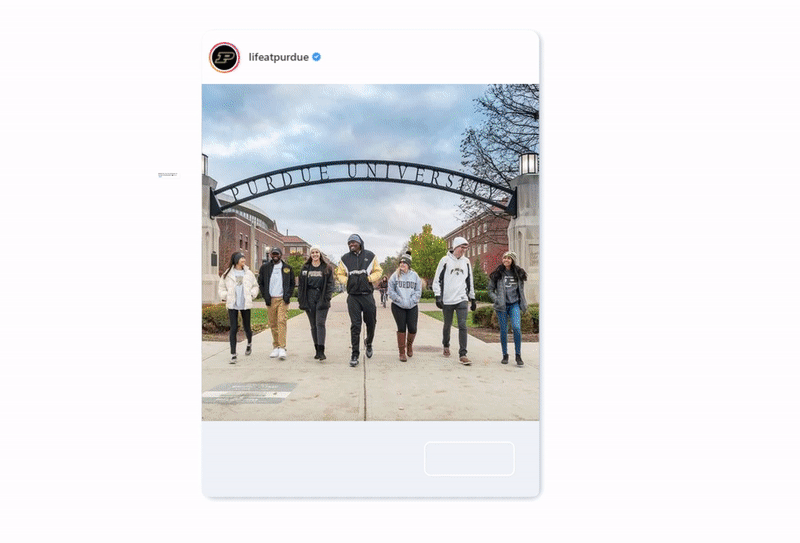 +56% Increase in Response Rate
(# Responses Issued / Total User Comments)
+42% Increase in Positive Sentiment
(# Positive Comments / Total User Comments)
+31% Increase in Engagement Rate
(# Total Likes, Shares, Reactions / Reach)
Comparing 3-month data across Facebook, Instagram, and YouTube after implementing BrandBastion, to 3-month data before BrandBastion.
(17 May 2021 - 16 August 2021 vs 17 August 2021 - 16 November 2021)
01 |

OVERVIEW
Leveraging social media engagement as a higher education institution
Over the last few years, schools and universities have realized that social media is not only a place to advertise their degrees or facilities. It is also a key channel for understanding their audience, collecting market insights, driving enrollment, and building a vibrant community for students and staff.
Higher education institutions must engage with alumni of all ages, as well as prospective and current students, to foster a sense of community beyond the campus. It can be difficult for students to get a feel for a place before they enroll, so enabling safe and meaningful conversations on social media is critical to attracting new candidates while promoting institutional values.

More than ever, monitoring social media conversations reveals what students and other stakeholders are saying, thinking, and expecting. This can help institutions understand what content resonates better, take advantage of UGC (User-Generated Content), and protect their brand reputation.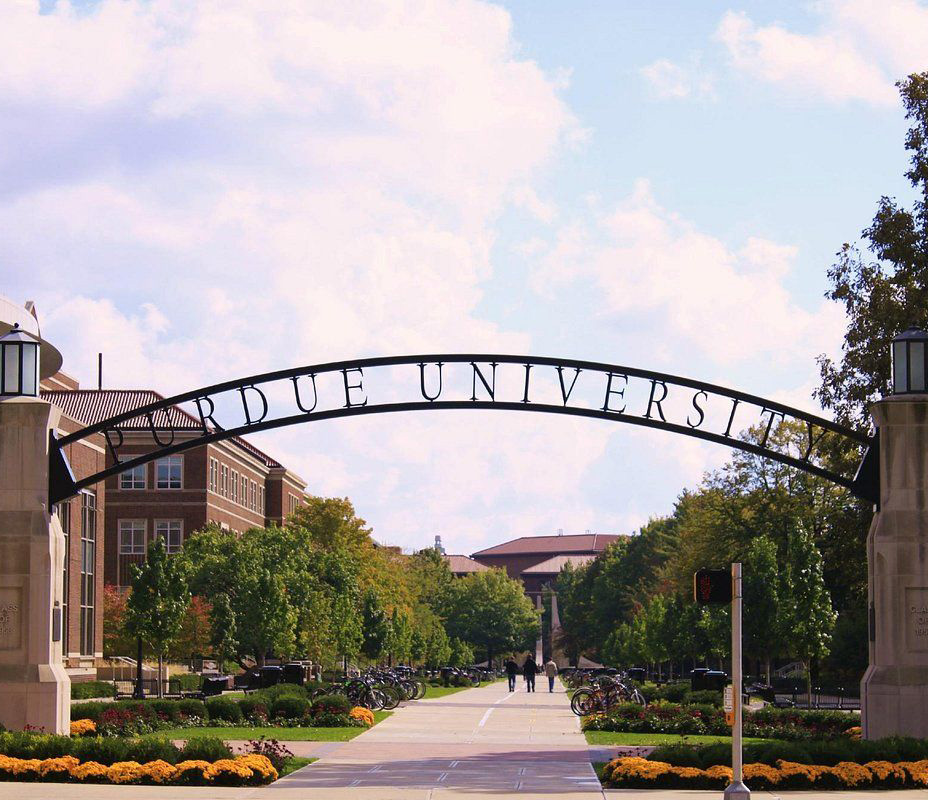 02 |
THEIR STORY
About The Brand
Purdue University, located in West Lafayette, Indiana, is a public institution founded in 1869. It has a total undergraduate enrollment of over 41,000. For more than a quarter-century, Purdue University has been the largest or second-largest in undergraduate engineering enrollment in the country.
The Digital Engagement team, including three social media experts and five interns, shares social media content on a daily basis with a community of more than 1,000,000 followers across Facebook, LinkedIn, Instagram, Twitter, YouTube, Snapchat, TikTok, and Pinterest. The team focuses on driving engagement and maintaining an inclusive community that values every person's inherent worth and value.

03 |
THE CHALLENGES
Keeping their social media community safe & engaged
Purdue University shares engaging and informative content about life on the campus and Purdue Boilermakers. As a public university, Purdue University wants to ensure fruitful debate and promote an open forum of ideas for students. They want their alumni and students to interact with their stories and share experiences while encouraging inclusion, diversity and meaningful conversations.
They needed additional assistance to keep up with such an active community
The University has a loyal and engaged community, receiving thousands of comments every month across Instagram, Facebook, LinkedIn, and YouTube. They wanted to keep their community safe and engaged 24/7, but they needed additional assistance to keep up with such an active community.
They needed a way to moderate and be alerted
Purdue University wants to keep a safe community for meaningful conversations. They needed a way to moderate and be alerted to any harmful comments.
They needed a way to respond 24/7 at scale
Purdue University wants to build an engaged community that feels listened to and encouraged to participate in the conversation. They have a strong community proud to belong to the University, but they needed a way to respond 24/7 at scale to drive more engagement and brand love.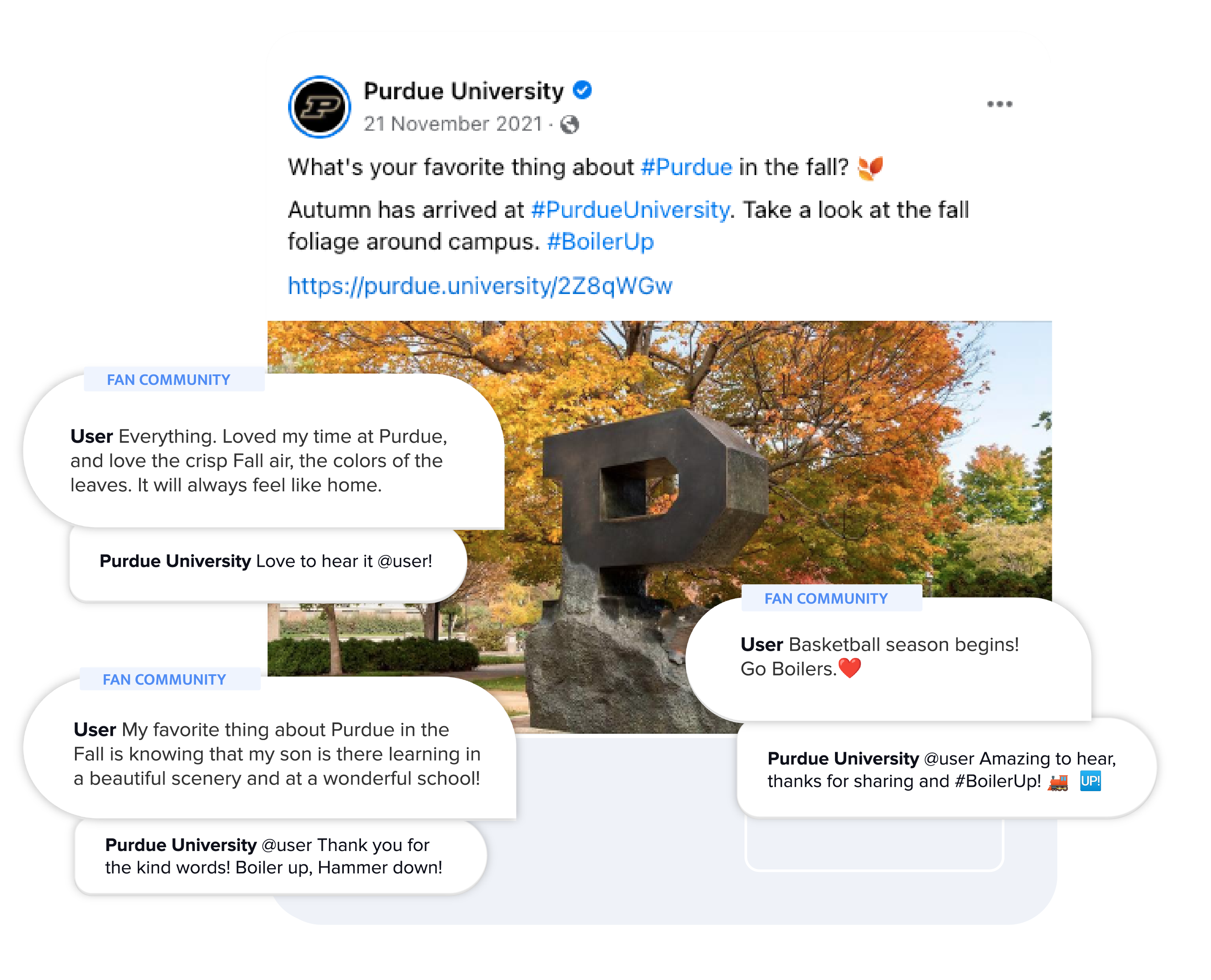 04 | THE SOLUTIONS:

BRANDBASTION CARE
Boiler(ing) up Purdue's engagement!
The University's commitment to a completely free and open discussion of ideas motivated the team to scale their customer care strategy to engage with students and alumni:
BrandBastion responds to engagement such as

Fan Community

and

Constructive Feedback

comments 24/7 within minutes.


BrandBastion keeps Purdue's brand voice authentic and dynamic by defining dozens of response variations per category. This way, our AI + Human solution can respond with the most pertinent and fitting answers.
With over 1 million followers across Purdue University's official social media platforms, we want to make sure our followers feel a sense of community, belonging, and pride. Being able to respond to comments with Purdue's brand voice and in a timely manner helps instill this, and BrandBastion is a vital component to making sure this happens.
- Ashlee Shroyer, Social Media Manager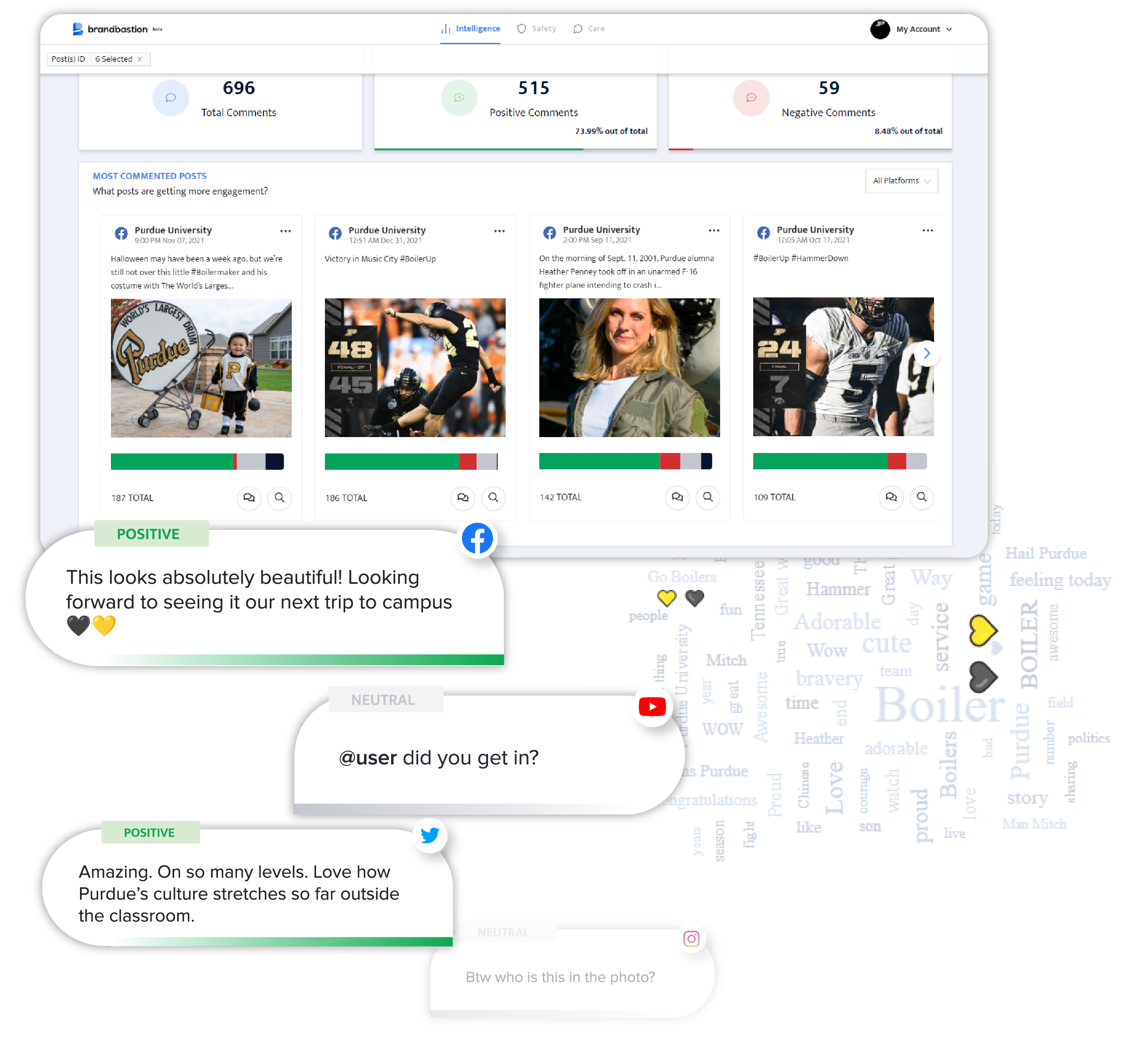 04 | THE SOLUTIONS:

BRANDBASTION INTELLIGENCE
Using social media sentiment to inform marketing decisions and optimize the content strategy
The Digital Engagement team wanted to keep a pulse on the campus conversations and understand brand sentiment:
BrandBastion Intelligence helps the team monitor conversations in real-time across Facebook, Instagram, YouTube, and Twitter.


The social intelligence insights enable Purdue University to assess brand health and analyze sentiment across the board.


The team can understand the brand's sentiment across different posts and assess content resonance to optimize their strategy.

Understanding sentiment is important to get a sense of what our audience is saying and how they are reacting to our posts. This has been helpful when providing analytics and adjusting strategy as needed for upcoming posts.
-Ashlee Shroyer, Social Media Manager
05 |
THE RESULTS
Growing an engaged student & alma mater community
Just three months after activating BrandBastion's solutions, the results revealed a significant boost in positive sentiment and engagement rate, showing how managing conversations starts to impact digital marketing KPIs almost immediately. Purdue University has peace of mind knowing that:
BrandBastion monitors thousands of comments per month 24/7 and has helped improve the response rate by 56%.
The university is deepening relationships with students and alumni that leave positive comments, helping to increase the engagement rate by 31%.
They are building a community that fosters inclusion, diversity, and freedom of speech by encouraging meaningful and safe conversations.
They are in control if something unexpected happens, and they can quickly react if there's an issue at the campus.
They can optimize their strategy to share content that resonates with students and alumni based on the insights provided by BrandBastion, such as sentiment or topical analysis, helping to grow positive sentiment by 42%.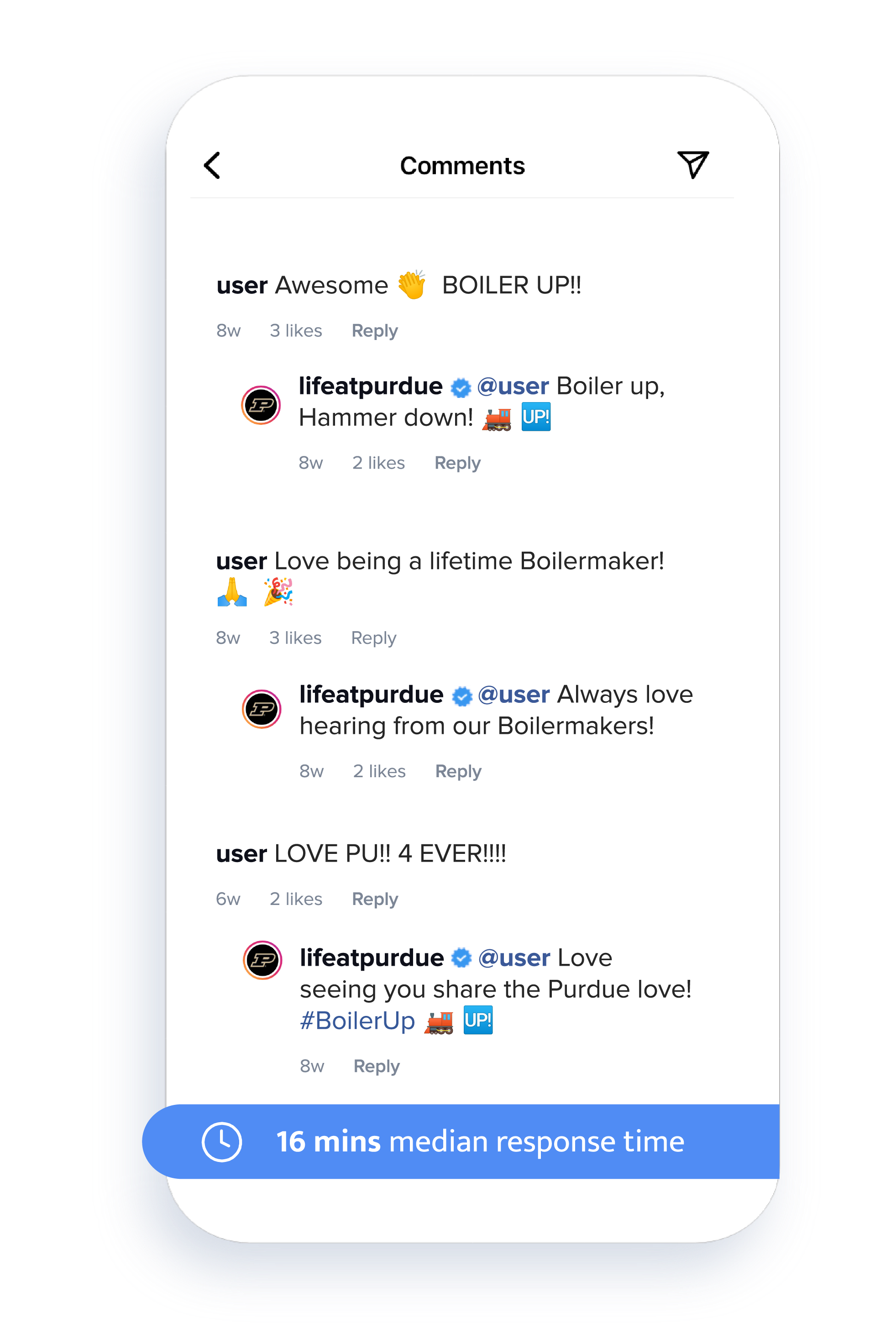 BrandBastion's speed and timeliness in moderating, responding and analyzing comments has helped take our social media strategy to a new level."
-Ashlee Shroyer, Social Media Manager
+56% Increase in Response Rate
(# Responses Issued / Total User Comments)
+42% Increase in Positive Sentiment
(# Positive Comments / Total User Comments)
+31% Increase in Engagement Rate
(# Total Likes, Shares, Reactions / Reach)
Comparing 3-month data across Facebook, Instagram, and YouTube after implementing BrandBastion, to 3-month data before BrandBastion.
(17 May 2021 - 16 August 2021 vs 17 August 2021 - 16 November 2021)