SUCCESS STORY
How A Major Fitness Brand Improved Their Positive Sentiment By +250%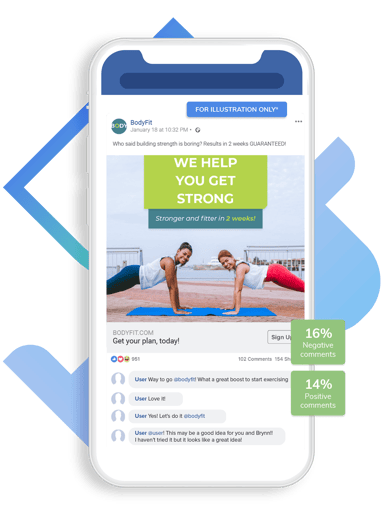 -60%
Decrease in negative comments
+250%
Increase in positive comments
Quick action
Thanks to BrandBastion Alerts
01 |

OVERVIEW
Paying Attention To User Sentiment
By monitoring user sentiment in real-time, a fitness brand was able to identify ad creative that was not resonating with the target audience and modify the creative mid-campaign to deliver a message that resonated better with its audience.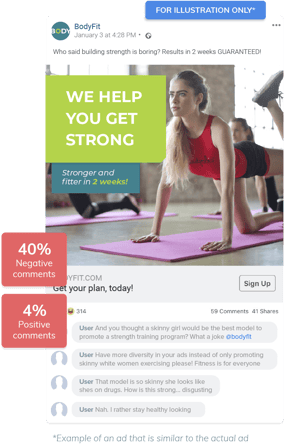 02 |
THEIR STORY
About The Brand
A major fitness brand that runs hundreds of creative variations at a time to optimize for performance.
03 |
THE CHALLENGE
Take A Quick Action When Facing a Negative Backlash
A major fitness brand was rolling out a new set of ad creatives. Over 24 hours, the number of negative comments received on one of the brand's ads spiked to 40%. (20 out of 50 comments received in that time frame were negative).
04 |
THE SOLUTION
BrandBastion Alerts 24/7
BrandBastion issued an instant alert to the client's team, highlighting that users seem to be pointing out that the image did not align with the message the brand was trying to convey. Users were questioning the brand's message, and these comments were visible to everyone viewing the ad.
After receiving the alert, the brand swapped the original creative out for another creative.
BrandBastion Alerts Helps Take a Quick Action When Facing a Negative Backlash
05 |
THE RESULTS
Enhanced User Sentiment Through Quick Action
Social is a key user acquisition channel for this brand. When running so many ads at scale, it is crucial to ensure that no negative or harmful content is appearing next to their ads. BrandBastion's Alerts allow them to respond within minutes to issues or spikes in negativity.
The new ad received significantly higher positive comments and significantly lower negative comments:
- 60% decrease in negative comments
+250% increase in positive comments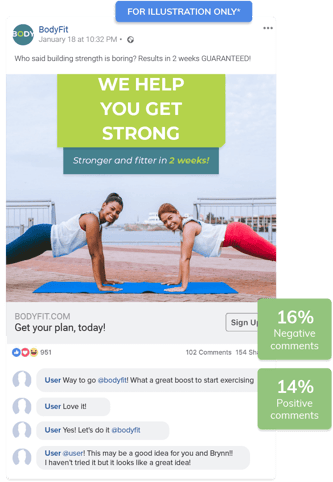 -60%
Decrease in negative comments
+250%
Increase in positive comments
Quick action
Thanks to BrandBastion Alerts