SUCCESS STORY
How WorldRemit keeps their customers safe and well-informed
while increasing positive sentiment by 61%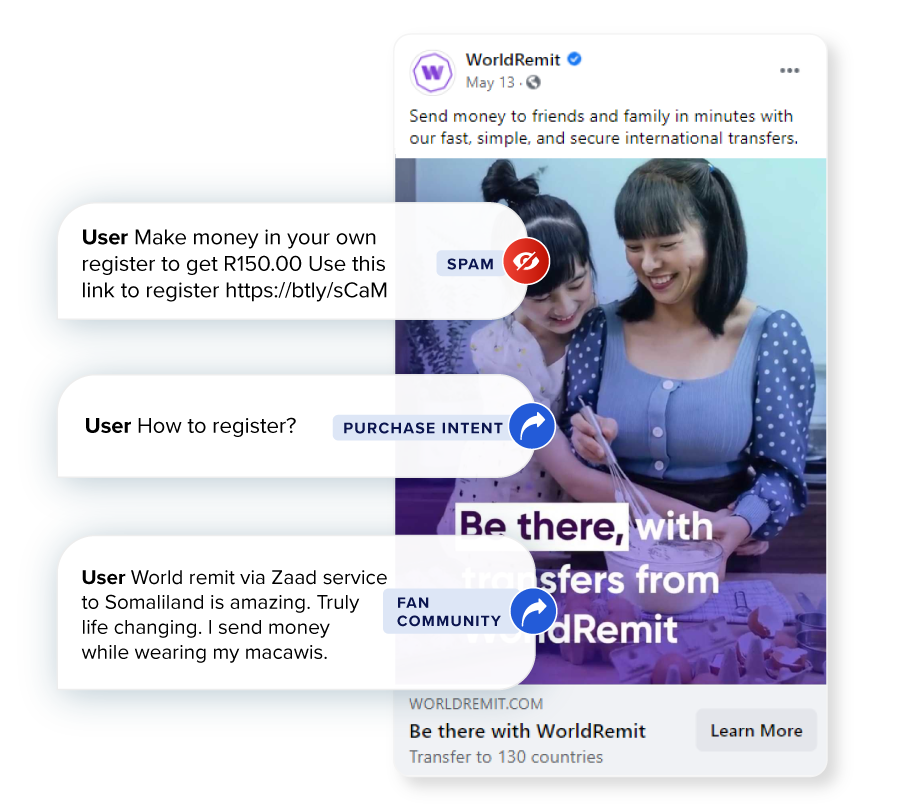 +44% Increase in Website Registrations Completed
+445% More Harmful Content Hidden
+61% Increase in Positive Sentiment
*Comparing 5-month data after implementing BrandBastion (03/11/2021 - 08/11/2021) to 5-month data before BrandBastion (10/10/2020 - 03/10/2021).
01 | OVERVIEW
Fostering safe dialogue on social as a FinTech company
Customers search for safe and reliable financial providers that can ensure a secure experience - which is why brand reputation can make or break a company in the financial industry.
Paying attention to what customers are saying on the brand's posts helps understand online reputation.
Consumers have many questions about the advertised financial services, and they use social media to ask them. Brands cannot hold back; they need to engage their customers by responding to questions, if they want to drive better performance.

Moreover, financial companies need to be especially wary of the potential exposure of user's PII (personally identifiable information), scams, spam, and other harmful comments that can threaten their reputation and also their customers' safety.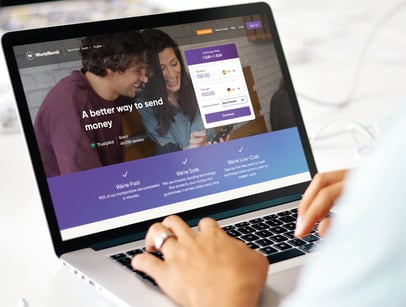 02 | THEIR STORY
About The Brand
WorldRemit is a cross-border digital payments service and money transfer app. It provides fast and secure international money transfer and remittance services in more than 130 countries and over 70 currencies.

Ensuring customer and brand safety
Spam, scam, violent and other inappropriate comments were threatening the community and brand safety.
WorldRemit was receiving comments from users disclosing personal information (for example, phone or account details).
They needed a way to ensure brand safety, by moderating these unsafe or dangerous comments 24/7, across all assets, including Facebook Dynamic Ads and Instagram Ads.
Educating and engaging customers
WorldRemit was receiving a high volume of customer comments around the clock with different questions and doubts.
The brand was receiving many positive comments from fans and they wanted to foster an open dialogue and two-way communication with potential customers and current clients.
The brand needed to keep customers informed and educated about their financial actions on WorldRemit.
04 | THE SOLUTIONS
BrandBastion Safety
BrandBastion monitors all comments in real-time with 24/7 coverage in 43 languages.

BrandBastion hides comments disclosing personally identifiable information, and other harmful content such as spam, scam, violent or inappropriate comments.
BrandBastion sends alerts to the brand when immediate attention is required.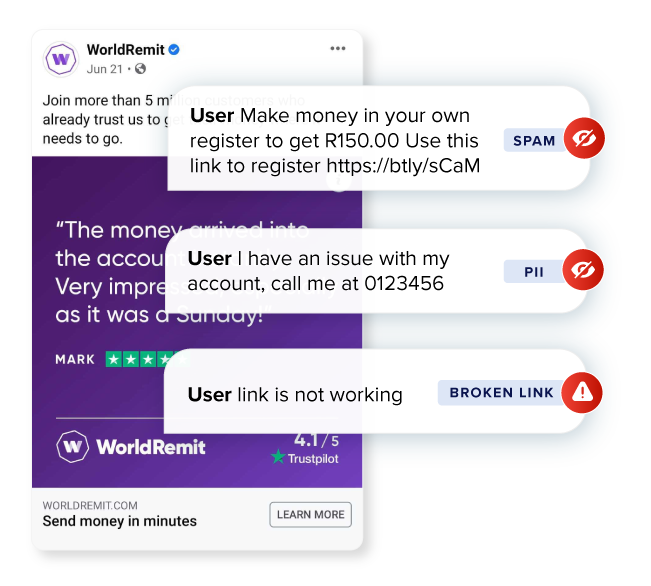 04 | THE SOLUTIONS
BrandBastion Care
BrandBastion responds to FAQ, Purchase Intent, Customer Complaints, and Fan Community 24/7.
BrandBastion refines and develops

responses for specific customer service questions

(such as refunds, transfers, and other queries) within the FAQ category, as we learn more about the audiences' needs and questions.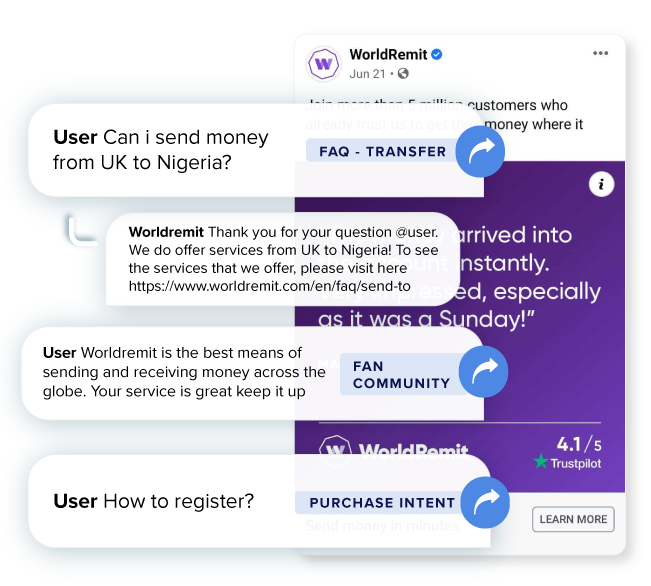 ⭐⭐⭐⭐⭐

BrandBastion solutions keep our social media properties free from spam, inappropriate comments, and phishing attacks that can put our fans in danger. It also helps us cater to our customers' questions and enable personalized conversations. BrandBastion is helping us build a safe and engaged community on social media.
- Amy Munkhbaatar, Community Manager (Marketing), WorldRemit
05 | THE RESULTS
Ensuring customer and brand safety
WorldRemit took a proactive approach to keep their customers safe and informed on social media, setting a great example for all financial companies. They have peace of mind knowing that:
Their ads won't spread scams or inappropriate comments that could threaten their customers' safety or the brand's reputation.
Comments disclosing personally identifiable information are removed, to protect the user's sensitive data.
All customers' questions are solved with personalized responses.
They are deepening relationships with fans that leave positive comments.
They are in control if something unexpected happens or if there's an issue.
Since partnering with BrandBastion, WorldRemit's social media teams have been able to focus on running ads at scale.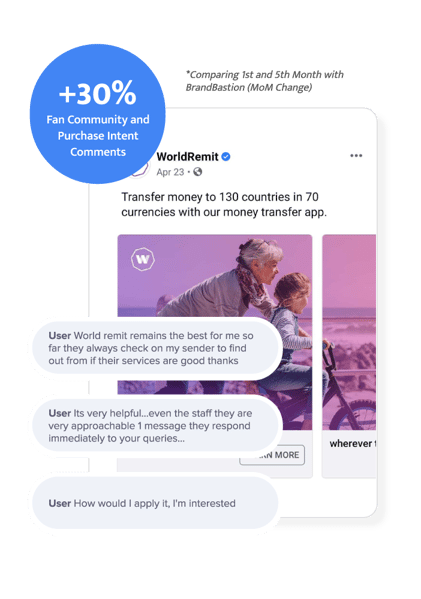 +44% Increase in Website Registrations Completed
+445% More Harmful Content Hidden
+61% Increase in Positive Sentiment
*Comparing 5-month data after implementing BrandBastion (03/11/2021 - 08/11/2021) to 5-month data before BrandBastion (10/10/2020 - 03/10/2021).