Level Up Your Engagement Game
Level Up Your Engagement Game
We help gaming brands fight IP infringement, hacks + cheats, and hate speech on social media.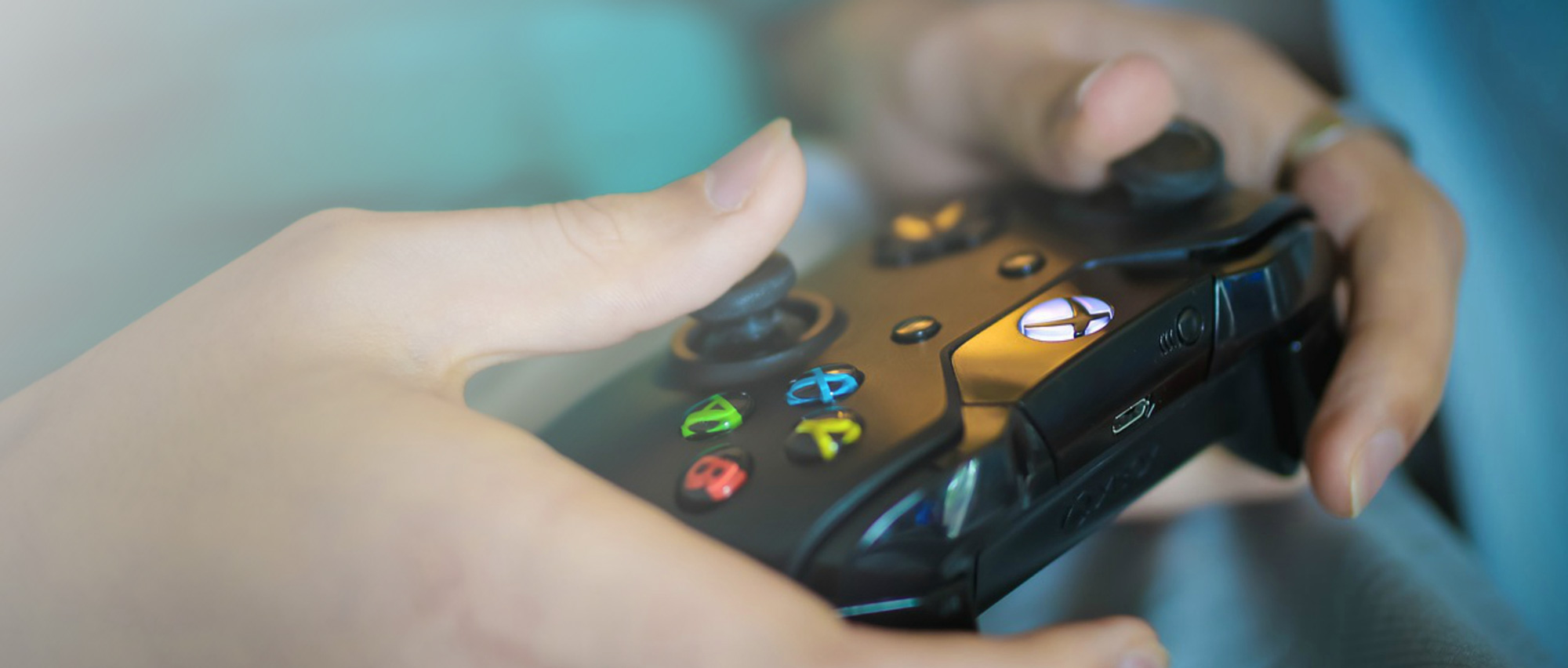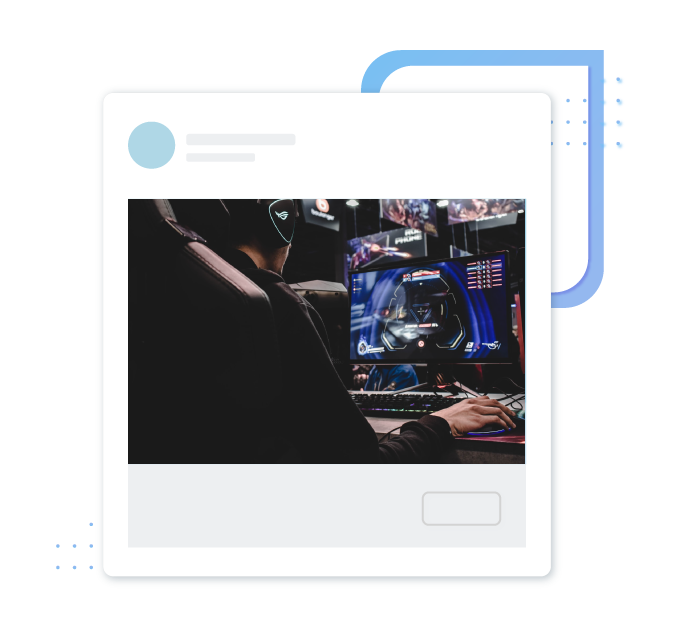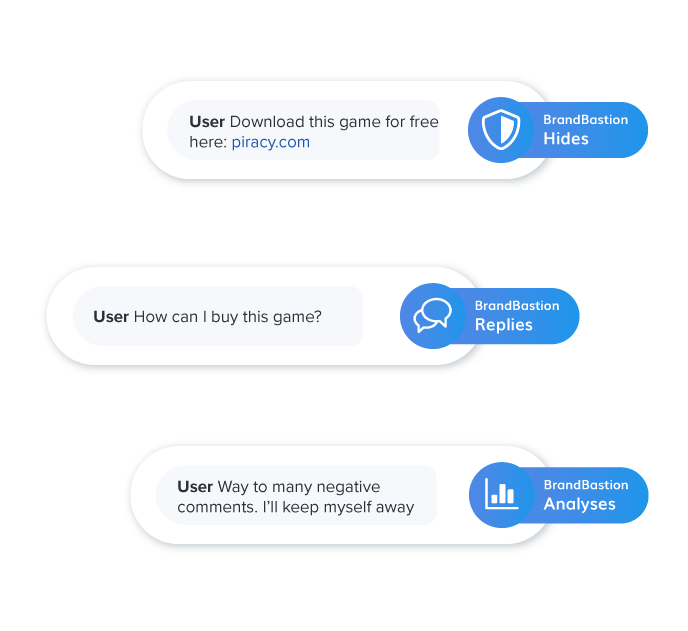 WE MONITOR, MODERATE, AND RESPOND TO YOUR BRAND'S COMMENTS 24/7
Protecting Your Gaming Brand at Scale on Social
BrandBastion monitors every comment you receive across ads and organic, to identify engagement in need of moderation or a response. We take actions on your brand's behalf around the clock 24/7 including nights, holidays, and weekends.
24/7 COMMUNITY MANAGEMENT FULLY MANAGED SERVICE
BrandBastion works around the clock to:
Remove harmful comments and alert you
24/7 MODERATION + ALERTS
Spam, scam, unauthorized selling, brand impersonation, hacks, cheats and other malicious comments can damage brand reputation and customer experience. BrandBastion hides harmful comments in real-time from all your social accounts. We also send you alerts if there's an urgent issue.
Reply to user questions on your behalf
24/7 CUSTOMER ENGAGEMENT
It is essential to respond promptly to all customer feedback and inquiries as it increases conversions and brand loyalty. Our premium response solution issues reply that sound natural, matching the tone of the customer's comment.
Turn social media data into actionable insights
INSIGHTS & REPORTS
Discussions across your social media campaigns and accounts offer invaluable insights into brand perception, campaign performance and can result in new product development. BrandBastion provides detailed reports on topics discussed as well as sentiment analysis on specific campaigns.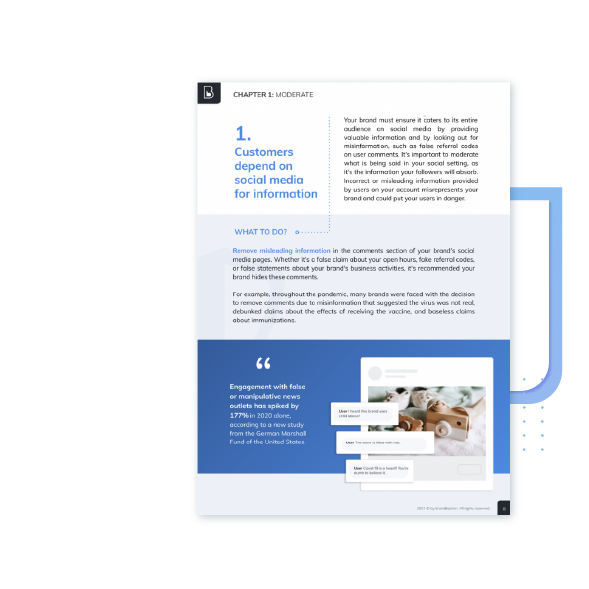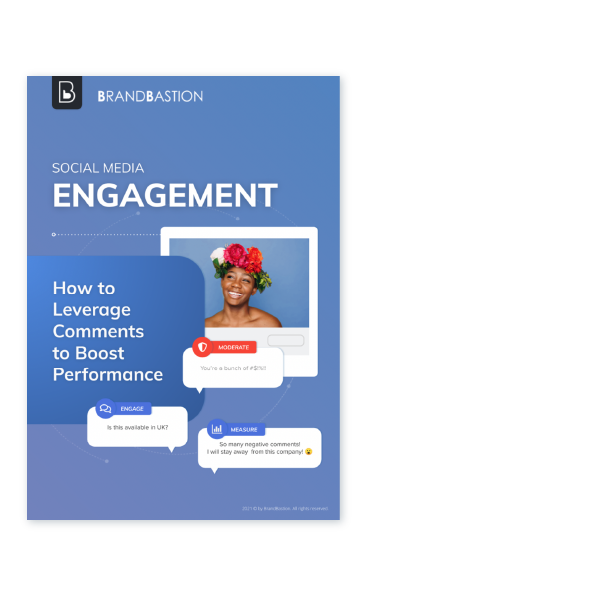 FREE DOWNLOAD
Guide: How to Leverage Comments to Boost Performance
Tips on how to manage all types of engagement - the good, the bad, the ugly
Best practices from Fortune 500 companies, disruptors, and challenger brands
How managing engagement effectively impacts social media and ad performance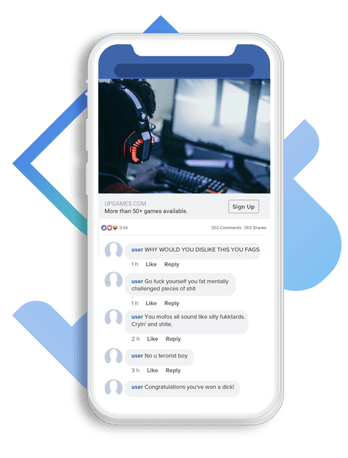 SUCCESS STORY
How BrandBastion Fights Hate and Discrimination in the Gaming Industry
54,215 harmful identified in 6 months





Breakdown of Harmful Comments

39.5% Extreme Profanity

33.8% Hacks + cheats

22.6% Spam + scams

4.1% Discrimination
The gaming industry relies heavily on its community and reviews. Effective management of this community on social media is key:
Prevent the spread of hacks + cheats
A recurring problem for all large gaming brands is the ease of hacks and cheats being spread through social media that violate the terms of use, dilute brand equity and reduce revenue. 34% of all harmful comments received on gaming ads are related to cheats. BrandBastion moderates these comments in real-time 24/7 with high accuracy.
Protect players from hate and scams
Bullying and harassment is a major problem for gaming communities. In addition, players who interact with a gaming brand's ads on social media often encounter scam links in the comments and may fall prey to these schemes. With BrandBastion's solution in place, these comments are eliminated within minutes, protecting your community.
Prevent crisis on ads
Ads have high reach but are hard to monitor constantly. If there's a threat of crisis happening on any of your ads, such as a technical link issue, a typo in the copy, or a high amount of negative sentiment from users, we send instant alerts so action can be taken before it escalates.
Ensure complete protection 24/7
Many brands do an excellent job with engaging on their organic pages but find it difficult to manage the comments spread across their ads, especially with dynamic ads or many variations of ads run across different regions for global brands. BrandBastion's AI + human solution pulls in all ad comments and takes action on brands' behalf 24/7.
Don't Just Take Our Word For It
"We're very satisfied with BrandBastion's moderation solution. It keeps our Facebook pages free from spam, inappropriate content, and phishing attacks that may be harmful to our fans. I recommend it for any brand receiving high engagement on social media."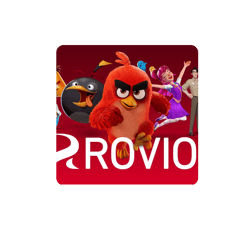 "BrandBastion helps us manage our paid media at scale, ensures brand safety, and keeps us more plugged into the conversation about our brand."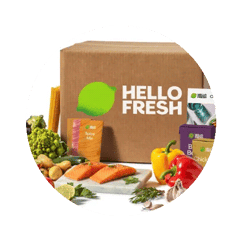 "BrandBastion has really helped us with the volume of ad comments associated with getting our ad campaigns to scale. BrandBastion communicates clearly and regularly with valuable insights into what our customers are saying and how their comments are being addressed, keeps the spam and hateful comments at bay, and provides quality customer engagement."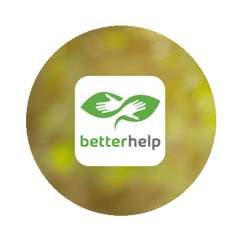 Let's Talk
How can we help your gaming brand on social?