E-Commerce & Retail Brands
Enable Conversations That Convert
We help global e-commerce and retail companies manage engagement and brand perception on their ads across every stage of the purchase journey, from awareness to acquisition and to sales.





WE MONITOR, MODERATE, AND RESPOND
Protecting Your eCommerce Brand at Scale on Social
BrandBastion monitors every comment you receive across ads and organic, to identify engagement in need of moderation or a response. We take action on your brand's behalf around the clock 24/7, including nights, holidays, and weekends.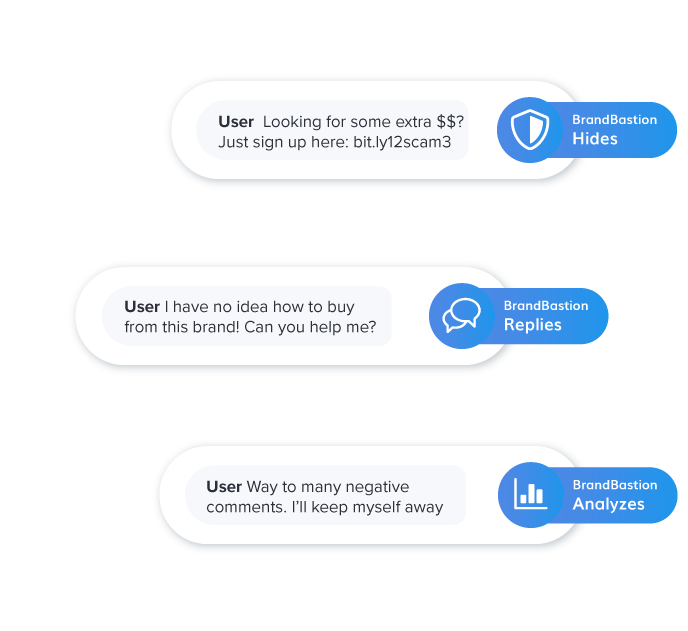 Anton Gusev, Growth and Monetization Manager at Joom talks about BrandBastion's solutions
SUCCESS STORY
How Joom Runs Dynamic Ads at Scale Whilst Keeping Control
+ 34% conversions

+31 % ROAS
after implementing BrandBastion Safety solution



Keep brand message top-of-mind, ignite interest, and turn purchase intent into sales:
Keep comment feeds clean
Spam, scam, unauthorized selling, brand impersonation and other malicious comments can damage brand reputation and customer experience. BrandBastion hides harmful comments in real-time from all your social accounts.
Respond promptly to customers
For online retail and e-commerce, replying speedily to customer inquiries about pricing, shipping, and availability is a driving factor behind customer satisfaction and purchases. Our premium response solution issues replies that sounds natural, matching the tone of the customer's comment.
Take timely action
If there's an issue with an ad, an extremely angry customer complaint, or a high amount of negative sentiment towards a post, it's important to take quick action before any negative sentiment increases and affects brand perception and the results of your live ads.
Ensure complete protection 24/7
Many brands do an excellent job with engaging on their organic Pages but find it difficult to manage the comments that are spread across their ads. This challenge is multiplied when dynamic ads come into play, with thousands of variations of the same ad to keep track of.
It's time to discover how BrandBastion can help your brand grow.
Book a discovery meeting to walk you through our solutions and understand how BrandBastion can help you achieve your goals.