3 SOLUTIONS
Perfect your online conversations

Safety
Keep your brand safe as we remove all harmful comments, from spam to brand attacks. We also send you alerts when your brand is at risk.

Care
Increase customer loyalty while we engage at scale. We respond to consumers' questions, complaints, and feedback on your behalf.

Intelligence
Enhance your strategy with actionable insights covering sentiment and audience perception on our social intelligence platform.
With BrandBastion in place, we have a finger on the pulse across our social media conversations and we know our community is protected from harmful engagement. We have peace of mind that Netflix's paid social engagement is being well-managed 24/7 thanks to the BrandBastion teams attention to detail, bias to action, and clear communication.
- Evan Irwin, Growth Marketing at Netflix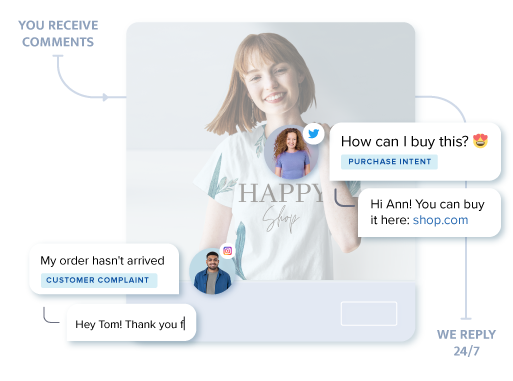 BRANDBASTION CARE
Drive meaningful conversations at scale
We help you increase customer loyalty by engaging at scale. We respond to consumers' questions, complaints, and feedback on your behalf 24/7. You just need to choose what types of comments you want us to respond to and we'll work with you to create response variations.
BrandBastion allowed us to increase our response rate and cut down response times, while giving our team the opportunity to focus on the cases that require a personalized touch and our in-house expertise. This collaboration enables us to be more engaged than ever with our community.
- Anna Skidmore, Vice President, Customer Experience at BoxyCharm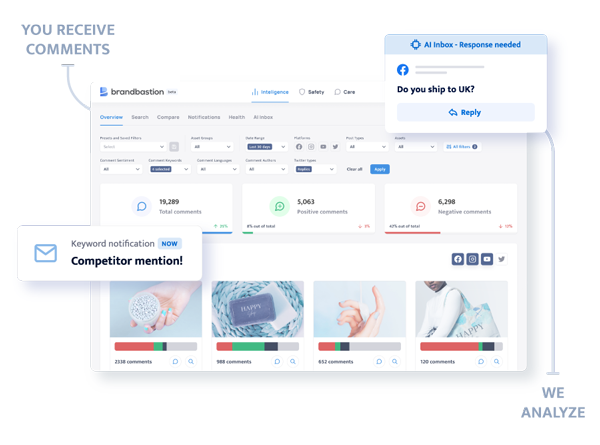 BRANDBASTION INTELLIGENCE
Enable AI-Powered Social Intelligence
Explore all your comments in one place with AI-powered insights in our platform in beta. Discover conversation trends, understand brand sentiment, understand if your campaigns are resonating and respond to your audience.
BrandBastion communicates clearly and regularly with valuable insights into what our customers are saying, keeps the spam and hateful comments at bay, and provides quality customer engagement.
- Jessica Honbarger - Marketing Analyst

How we help our customers grow